Minty Fresh
Serious gem collectors don't have to be talked into loving tourmaline.
This gorgeous transparent gemstone favors its fans with abundant colors for every taste. It has a lot to do with what designers do with the stones after they acquire them. The color-rich gemstones fuel the imagination of jewelry artists worldwide.
Gemstone lovers are seeing green
Now a newer-kid-on-the-block has been gaining traction recently for that very reason. It's now called Mint Tourmaline and it's as fresh as a Tic Tac. Most Mint tourmalines are categorized in the Elbaite family of tourmalines. This rare variety of Dravite earns its color via trace elements of vanadium and chromium.
Something for everyone

And there are so many reasons to love it. While the light pastel tints are custom-made for warm weather, the Tropics, and holiday destinations, this cool class act can be paired with wardrobes in any climate. It's just looking for a wearer who insists on staying way out of the ordinary when it comes to her jewelry wardrobe.
Tourmaline can be found in exotic regions around the globe like Tanzania, Brazil, Congo, Nigeria, Mozambique, even American deposits in California and Maine. Some of the most prized examples of this color tourmaline have been found in Afghanistan.
Slim Pickens

The rough crystals have a habit of growing in long slender shapes referred to as 'pencils'. So don't be surprised to find these gems cut into elegant elongated forms like the pair of mint tourmaline stones you see above.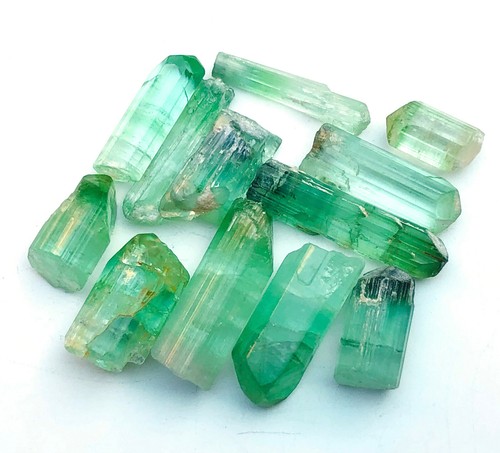 Because they are all natural, you'll find that they range in tone and coloration. Some are very light pastels, others have a bit more vivid tint. They can appear in a straight green, slightly bluish green, or even slightly yellow green. Whichever one you find, it's bound to become your favorite gemstone of all time, owing to its semi-rarity in fine color and quality.
Would you care for a mint?
Cuff Bracelet features 53.15 carats Mint Tourmaline Carved - Polished by Atelier Munsteiner with other fancy color diamonds and fancy sapphires; $90,300.00; Tamsen Z

Octagonal emerald cut mint tourmaline; Parle Gems
Pair of elongated pear shaped mint tourmaline; Ivy and Rose